I'm off to Scotland today. I've been planning this trip with my Mom for about six months and I can't believe it's finally time to go. I've been packing all week and trying to get everything organized. The hubby is going to be in charge of everything when I'm gone, so I'm so grateful, again. Thankfully it's Thanksgiving weekend while I'm gone, so it will only be four days really that he'll have to worry. It's also the kids picture day while I'm gone, so the hubby will have some hoops to jump through. These photos are only forever, so no pressure or anything. It will be hard to leave my little family, but it's only for nine days, and I'm going to get them totally awesome presents!
So, going to Scotland is something I've wanted to do since I was a teenager. My Nana was a Scottish MacDonald and she traced our ancestors back to a town called Glencoe, which we'll get to see on our trip. Scotland is a place I've always felt a real connection to, especially after Braveheart came out in the '90's. I think I've seen that movie about a hundred times, although I haven't seen it for a while. I meant to watch it one more time before I left, but see previous blog post for why I didn't! It might be required watching before visiting Scotland for all I know.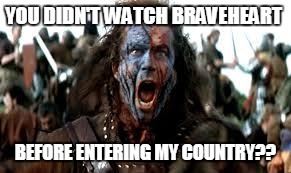 I'm pretty sure it was an authentic representation of Scotland during that time period and close to the actual history of William Wallace and the battle for Scotland. Oh, and they filmed lots of it in Glencoe, so two birds and all that, right?
Anyway, it's not just the movie that draws me to the place. I totally feel a connection there on some other level. I can't wait to see the ocean and the cliffs and castles. It's a country with such a rich history and I can't wait to see the museums and art galleries. I think their national gallery has a DaVinci! I don't care which one!
When I was sixteen, I went to see the Pope in Poland. It was a trip organized by the church and I my Mom was a chaperone. I went mostly because I wanted to travel so bad at that age.
One of the things I remember about Poland was how old everything there was. Coming from a young country like Canada, the age of everything really blew me away. The architecture, the art, the roads made out of cobblestones, it was so enthralling. I'm looking forward to going to Europe again and finding the place where my ancestors came from, to see the place where my family originated. That my ancestors started there and now live here, in the Yukon, it's going to be a cool journey. I am happy I'm doing it with my Mom again too. It was fun the first time, but this time will be better. I'm old enough to drink now! See you all when I get back!